What is Aqua Planet Dive Centre and Charter all about?
Well, it is most famous for the dive site we are absolutely privileged to dive … PROTEA BANKS … a world renowned shark dive site that attracts divers from all over the world.
But Aqua Planet Dive Centre and Charter has a SOFTER side, it is a place where friends meet and long term friendships are made … and the Aqua Planet family is started …
One part of the Aqua Planet family is the Brat Pack … but with Princess Monie 'in charge' … 'membership' is not just handed out … it is a group of fun and like-minded divers, that enjoy each other's company … and enjoy a good giggle on the boat … who dive of a regular basis together.
But the Aqua Planet family extends way beyond the Brat Pack … you are all welcome to join this family … just arrive with a smile on your face and you will be welcomed into the dive centre, where you can just feel at home and make friends.
I am privileged, in the more than 20 years I have been a part of Aqua Planet Dive Centre and Charter, to have met incredible people from all corners of the of globe and have made just so many friends.
After lockdown … some of the awesome woman I have met through diving, decided to have some fun with the new hit song JERUSALEMA … we hope you all enjoy our scuba version.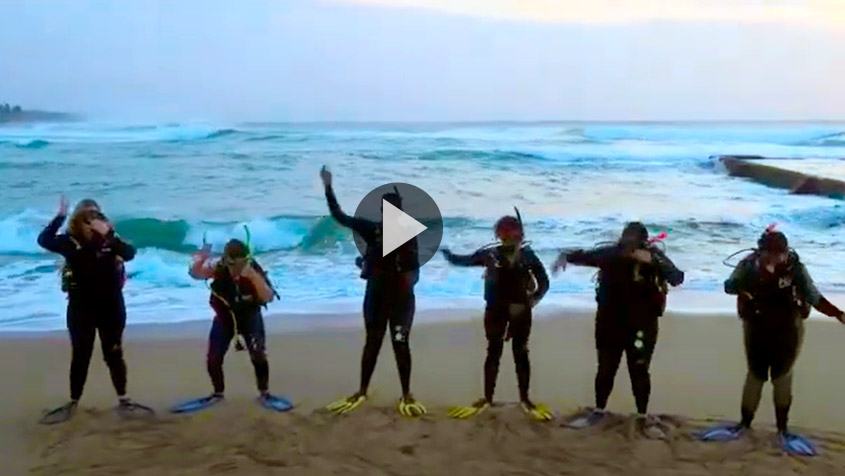 A big shout out to Karen, Tas, Zama, Jenelle, and Charlotte for letting their hair loose and making this video with me … and to Holger Simm you have been a superstar, filming for us. Thank you, I am sure you will agree that is was loads of fun …
WE LOOK FORWARD TO SEEING YOU AT AQUA PLANET DIVE CENTRE AND CHARTER, NOT ONLY ARE WE BACK TO DIVING … WE ARE HAVING LOADS OF FUN.
Written by Kym Pollard
Owner of Aqua Planet Dive Centre and Charter
Shelly Beach, South Africa